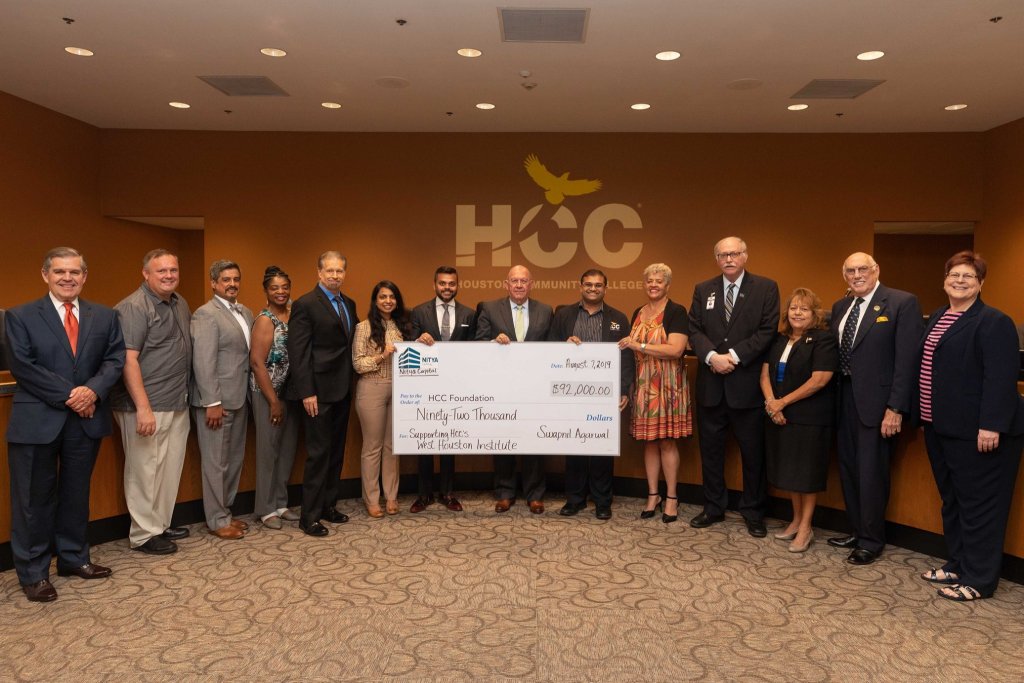 Nitya Capital and Swapnil and Deepika Agarwal were recognized at the HCC Board of Trustees meeting on August 7th for their gift of $92,000 to HCC's West Houston Institute.
"The gift will underwrite the West Houston Institute video wall to serve as a focal point for the HCC state-of-the-art learning space.
Swapnil is a graduate of Hastings High School in Alief ISD, just a few miles from the West Houston Institute. His higher education began at Houston Community College where he started his coursework before self-financing his way through college at the University of Texas. Swapnil then worked in the real estate and finance industry before launching Nitya Capital and KPM Property Management in 2014.
'For those of you who have not been in the lobby of the West Houston Institute, the video wall is going to be truly impressive, spanning two stories and adding to the bold and innovative design of the space,' said HCC Foundation Board Chair David Regenbaum. 'It will provide an attractive element to the building for both students and outside community visitors.'
Swapnil, whose company primarily focuses on providing housing to middle- and lower-class families of America, is humble about his philanthropy. The self-made businessman remarked, 'It's my privilege and honor to support and give back to the community. … I'm in this position because of what I learned at HCC.'" – The HCC Foundation
Fast forward to August 21, 2020. HCC has just completed its first Virtual Commencement Ceremony using the completed video wall. The event theme "We Are All Connected" served as an important reminder of the need for unity and togetherness during the ongoing pandemic.
Full Article: https://mailchi.mp/f5cb7da6bd9b/nitya-capital-houston-community-college-video-wall-swapnilagarwal